EIN Presswire | Newsmatics
Spreading the Heat: Crimson Coward Talks Expansion and Its Sizzling Roots
News provided by
EIN Presswire
Oct 17, 2023, 9:00 AM ET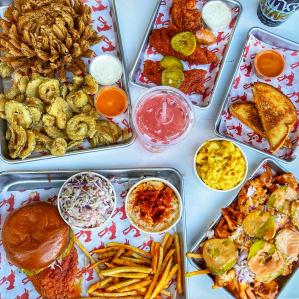 Crimson Coward Nashville Hot Chicken's fresh, never frozen marinated chicken entrees are served with daily made fresh signature sides, prepared in an open kitchen and made to order.
Crimson Coward Nashville Hot Chicken is delivering sizzling flavor with top-notch service with plans to double their store numbers over the next year.
LOS ANGELES, CALIFORNIA, UNITED STATES OF AMERICA, October 17, 2023 /EINPresswire.com/ -- A journey that started with a passion for Nashville hot chicken flavor coupled with an idea to create a cool customer experience has resulted in a growing go-to destination for food fans. Crimson Coward Nashville Hot Chicken is delivering sizzling flavor with top-notch service in states across the U.S. with plans to double their store numbers over the next year.
"What has made our product so captivating is the complexity of its flavor profile – each blend is unique to the heat level our guests prefer. Once you try it, you want to share it with your friends because it's just that different, and that good!" said Ali Hijazi, Crimson Coward founder and CEO.
It was a friend that introduced L.A. native Hijazi to Nashville hot chicken and after that, he knew he wanted a piece of the action for himself.
"One bite was all it took and I was hooked," said Hijazi.
Quickly after, Hijazi converted his garage into a food lab and took regular trips to Nashville to uncover this one-of-a-kind flavor combination right from the source.
"I think I went to every hot chicken place in Nashville over the course of three days," he shared.
After months of research and testing combined with countless tweaks, Crimson Coward Nashville Hot Chicken opened its first store in Downey, California in 2019. They expanded to a second location in 2022. Today, Crimson Coward is popping up coast to coast and will have nine stores operating in California, Michigan, Texas, and Virginia by the end of the year. They plan to double in 2024 and each year after with a goal of 200 stores by 2027.
Armed with a name to challenge the tastebuds, Crimson Coward's chicken visually changes color with each spice variation – the deeper the crimson hue the spicier the dish. The fast casual hot chicken joint offers five heat levels: country, which has no heat, mild, medium, Crimson-hot, and BURRRRN BABY BURN. Each heat level is developed with a specific range of peppers, contributing to the change in color.
"We wanted the food to not just taste really good, but also how it was prepared and presented was important," said Hijazi. Each menu item is made with fresh ingredients and carefully curated to not only fire up the spicey flavor but also inspire social media fans. Social media influencers have been flocking to the franchise for a feed-worthy bite.
If the food wasn't enticing enough, the in-store experience is just as exciting. Crimson Coward locations offer an open kitchen design that allows guests the opportunity to see their food cooked to order, right in front of them.
"We are committed to going that extra step to make each guest's experience exceptional," said John Filipiak, a partner for the east coast expansion of Crimson Coward's stores who brings 30 years of restaurant franchise experience to the brand.
Crimson Coward's open kitchen also has a special spot called the "Lucky 7" – a name given to the seven counter-height seats where guests fortunate enough to snag a spot are deliciously rewarded with free samples of the fresh, never frozen dishes, such as macaroni and cheese or fried pickles.
"We love engaging with our guests in this unique way and giving them a chance to try an item they may want to purchase in the future at any one of our chicken joints," said Filipiak.
Crimson Coward is soon bringing its irresistible menu to even more neighborhoods with two additional locations this year – Pomona, California that opened in October and Stafford, Virginia opening in November. The brand will also welcome new stores to the Baltimore Maryland area and Fairfax, Virginia in early 2024.
Molly Link
Asher Agency on behalf of Crimson Coward
+1 260-424-3373
mollyl@asheragency.com
NOTE: This content is not written by or endorsed by "WBOY", its advertisers, or Nexstar Media Inc.
For inquiries or corrections to Press Releases, please reach out to EIN Presswire.