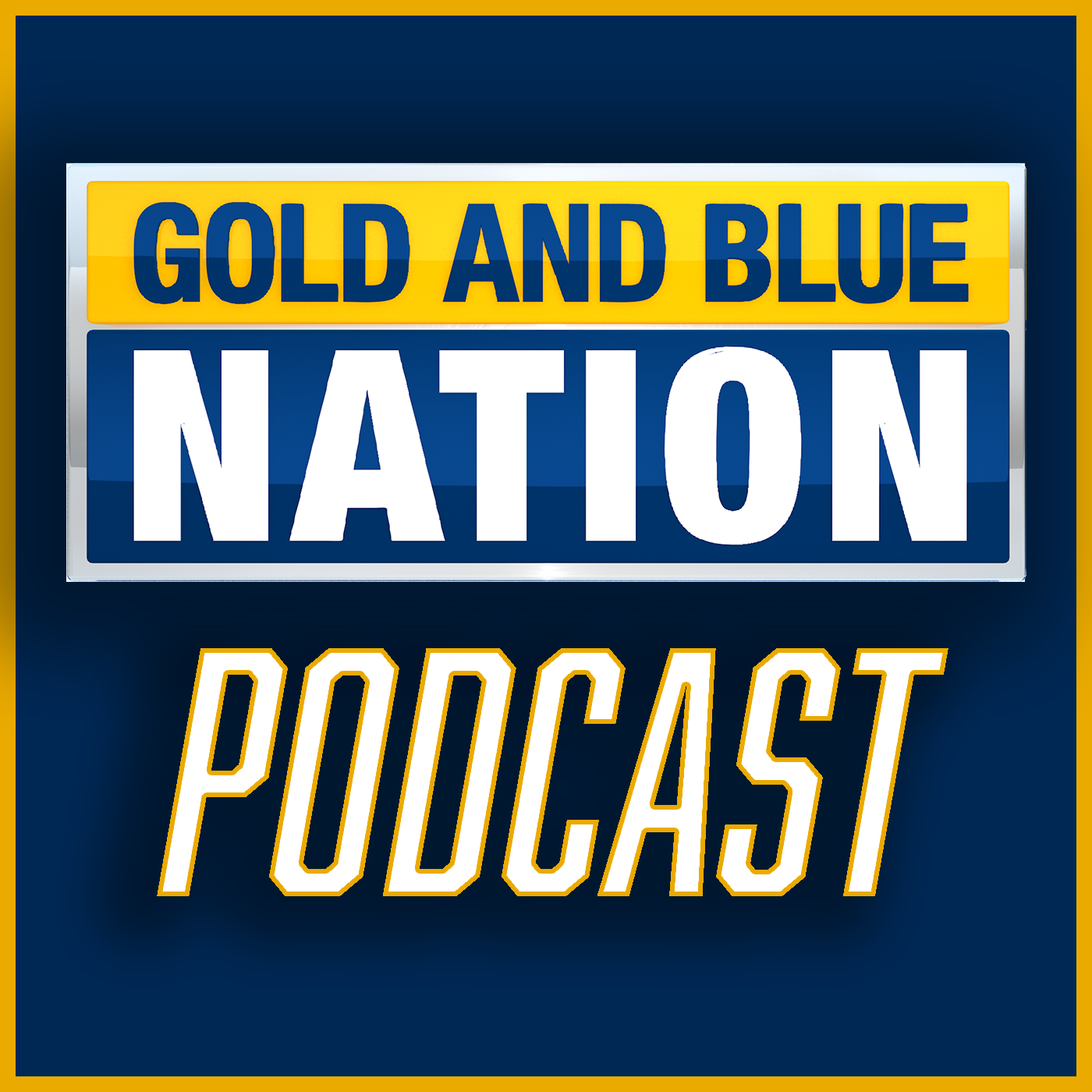 WVU women's basketball introduced Mark Kellogg as the seventh head coach in program history this week. What's next for Kellogg, and how will he approach the roster management piece of his transition? Hosts Nick Farrell and Anjelica Trinone discuss on this edition of The Gold and Blue Nation Podcast, presented by Pritt & Spano. 
MORGANTOWN, W.Va. — The Mark Kellogg era has officially begun for WVU women's basketball.
The seventh head coach in program history was introduced Wednesday at a press conference by director of athletics Wren Baker and play-by-play announcer Tony Caridi.
In front of his family, future players, WVU staff members and Mountaineer fans, Kellogg — who became emotional at times — shared the story of his coaching career, his philosophy as a coach and his vision for WVU women's basketball.
These are our biggest takeaways from his first press conference as head coach:
Family values at the center of philosophy
For Kellogg, family comes first.
He arrived on campus for his introductory press conference alongside his wife, children, parents and brother, whom he called his "best friend." He also calls himself a "people person" — both in basketball, and in life — and said his family has helped him the most along the way.
"That's the glue to this thing," he said.
He also shared a touching anecdote about his wife, Trisha, whom he met while serving as an assistant coach at Montana State in the early 2000s.
A unique and fitting sign hangs in their living room. It reads: "We interrupt this marriage for basketball season."
"I know she did not play for me," Kellogg said, "but the greatest recruiting job I ever did was getting my wife to say 'yes' to me."
Four pillars to define program's culture
Much like Neal Brown does with the football team, Kellogg pointed to four "pillars" that will serve as the foundation of the program at WVU. He wants to clearly define those pillars so players know what will be expected of them.
"I will get them [the players] at their best if I allow them to be who they are," Kellogg said.
The first pillar aligns with family, faith and friends. Those things must come first, he said.
The second pillar is competing — both on the court and in the classroom. Kellogg doesn't expect to fill his roster with perfect grade point averages, but he does expect his players to put effort into their studies.
The third pillar focuses on athletics and sustaining success. He used the phrase "always advance" to describe this mentality. On the court, that means growing throughout the season and advancing in tournament play, but it also applies to improving in the weight room, in skill sets, in the classroom and beyond.
The final pillar is life outside of basketball, something he highlighted as a critical part of the student-athlete experience, but also something that's easily overlooked. Kellogg wants his players to engage and connect with fans through camps and other community events to both bolster the basketball program and amplify the women's game in the Mountain State.
"When we get the culture right, the wins and the losses will take care of themselves," Kellogg said.
Kellogg's 30-day plan
Over the next month, Kellogg will prioritize three things: retaining current players, completing his roster and finalizing his support staff.
The most important step in that process, he said, is creating relationships with the players he will inherit and convincing them to stay put.
"The number one priority is these guys," Kellogg said, referencing the WVU players who attended his press conference.
Four of the five regular starters from last year's team, which reached the NCAA Tournament, remain on the roster. Star guard JJ Quinerly could be the centerpiece for the project. She's coming off a stellar sophomore campaign, during which she netted All-Big 12 honors.
Fellow guard Jayla Hemingway has also played three seasons at WVU, acting as a regular starter throughout her tenure. Both Quinerly and Hemingway previously played for Mike Carey and Dawn Plitzuweit.
The two other starters from last year's team who could return next season — Kylee Blacksten and Kyah Watson — both transferred into the program last offseason.
Fifth years Madisen Smith, Danni Nichols and Sarah Bates are all out of eligibility. Smith ranks second in program history in career appearances.
Wren Baker's thoughts
Baker and Kellogg had a preexisting relationship. The athletic director hired the coach at Northwest Missouri State prior to the 2012-13 season.
But their time together there was short-lived. Baker promptly left that Division II school for a Division I opportunity with Memphis. Kellogg said he enjoyed his stint at Northwest Missouri State, but also departed from the program after one season.
Still, Baker, a self-proclaimed "basketball junkie," said he has stayed in touch with Kellogg over the years and is excited to bring him to Morgantown.
"Today is a day of celebration," Baker said.
Kellogg won 195 games during his tenure at Stephen F. Austin, guiding the Ladyjacks to six straight postseason appearances and seven consecutive seasons with at least 23 wins.