Five easy ways to help your child ease back into in-person school
It's not uncommon for children to have difficulties returning to school. While many students have reacclimated to in-person schooling post-pandemic, some still face difficulties leaving their homes, known as separation anxiety. According to the Mayo Clinic, separation anxiety is normal for infants and toddlers when they don't want to leave home. This condition is also prevalent among teens and adults.
Alleviating separation anxiety in kids requires creating routines and staying firm during separation. Above all, parents should address their separation anxiety and understand how that can impact their child.
Shop this article: Bunmo Super-Stretchy Strings Six-Pack, SpringFlower 100-Pack Motivational Quote Cards, Topcee Weighted Blanket for Kids
Separation anxiety among children
As mentioned, many children experience separation anxiety when returning to school. Children could have "separation protests" like whining, tantrums or clinginess. While expected of younger children, even older children can experience some separation protests.
The Mayo Clinic states the following as other signs of separation anxiety:
Repetitive bouts of excessive distress: Kids may constantly feel anxious or stressed about being away from their home or family.
Constant worrying: Kids may excessively worry about losing a parent, or other loved one due to illness or a disaster.
Refusal to leave home: Kids fear separation, so they may refuse to be away from home.
Refusal to be away from family members or other loved ones: If they're young enough to have nap time at school, younger kids may feel reluctant to sleep somewhere away from home without their parents or other loved ones.
Nightmares about separation: Kids may have recurring bad dreams about being separated from their loved ones.
Crying at night: Kids may cry at night and have difficulties sleeping.
Physical pain: Kids may experience headaches, stomachaches and other symptoms when they feel they're about to be separated from a parent or loved one.
Risk factors of separation anxiety in kids
There are risk factors that increase the chances of separation anxiety in children returning to school, such as:
Certain temperaments.
Family history.
Environmental issues.
A previous event in which a parent or loved one was lost during separation.
Separation anxiety is a common experience among children, but in some cases, it is a sign of separation anxiety disorder, a mental disorder that requires treatment. If symptoms of separation anxiety don't go away once the school year has started, please seek medical attention for your child.
Parental anxiety
Parents are also likely to feel separation anxiety, which could exacerbate the feelings in their children. Instilling fear into your kids makes them more reluctant to leave their safe space, which is their home.
According to a 2015 study, parental expressed anxiety can include the following:
Encouraging fear: Telling children to view issues as dangerous, chaotic, or unresolvable.
Teaching them to be fearful of certain environments: Behaving in a way that alerts children that they are threats in their environment.
Being negative: Displaying negative parental behaviors, such as criticism or rejection.
Be sure to check in with yourself as a parent to ensure that you're not unintentionally instilling fear into your children, making it more challenging for them to return to school and learn how to regulate their emotions properly.
How to ease back-to-school separation anxiety
Although checking on your child may seem like a good option, there are also other ways to make the transition easier for everyone.
Give your child some control
Students don't get to control when they return to school, but giving a student some degree of choice will help them feel like they are in charge of the situation.
Even if your child doesn't need one, allowing them to pick out a new backpack is an excellent way to give students ownership when starting school. A fun option is the Lego Brick Backpack. These backpacks resemble the popular building blocks while still being extremely functional. With enough storage space and unique style, your kid will be eager to show off their new backpack.
Along with a new backpack, choosing a new lunch box is a great way for your kid to express some personality. The Amersun Kids Lunch Box is a great option, and it comes in various styles and colors. The exterior is water-resistant and dirt-proof, so it'll withstand even the toughest lunchtime kids. It's insulated to keep your child's favorite food at the correct temperature all day, and the storage holds extra snacks and surprises.
Make it safe
Although cases have gone down in the post-pandemic, a fear for many parents is the safety of their kids in the presence of COVID-19. Unfortunately, kids aren't always the cleanest, so there's an increased chance of getting sick with the virus, flu or other sicknesses when returning to school. Fortunately, there are several ways to prepare to help you and your child feel safe at school.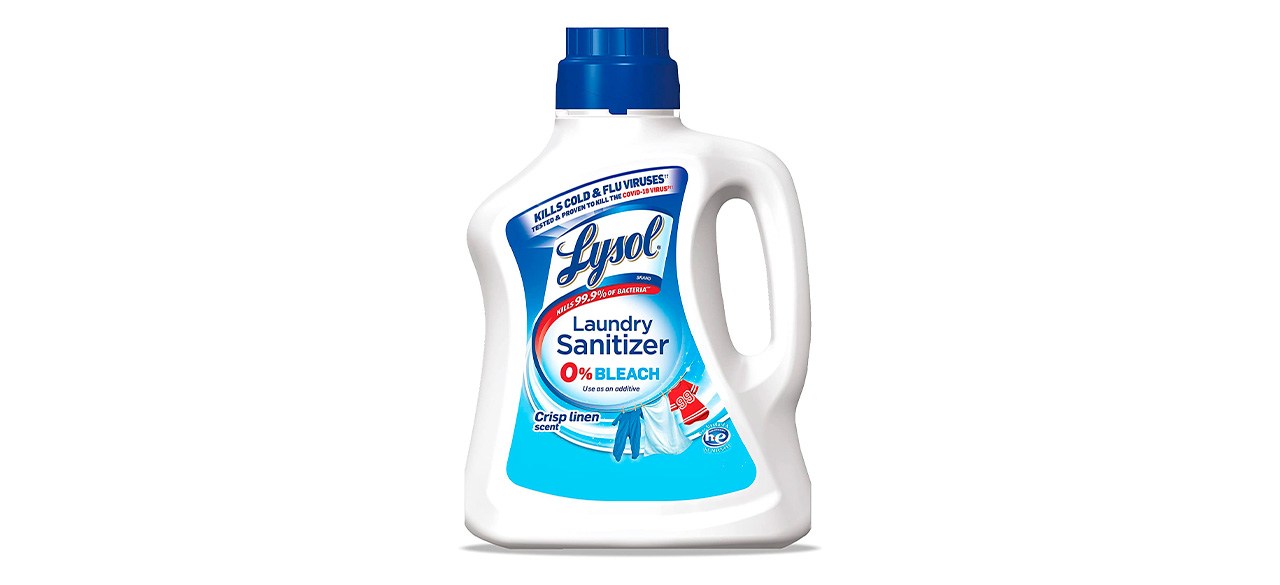 Stock up on the basics, like disinfectant wipes and hand sanitizer. One way to do this is by creating a disinfecting station, complete with wipes, sanitizing spray and hand sanitizer, so you can quickly and efficiently wipe down your child's backpack, lunchbox and school supplies. In addition, you can use the Lysol Laundry Sanitizer to wash their clothes for added peace of mind. This spray kills 99.9% of bacteria and viruses, including COVID-19.
Stocking up some cloth masks for your child is also a good idea. Choose one that is properly fitted to their face and one they're excited about. This will help encourage them to keep their mask on, keeping them safe. Also, KN95 masks provide extra protection with a comfortable, breathable fabric with a 95% efficiency rate.
Also, if you suspect your child has COVID, keeping some COVID-19 tests on doesn't hurt. The IHealth COVID-19 Antigen Rapid Test comes with two at-home tests and provides results within 15 minutes.
Help them decompress
No matter how old your kids are, they will need to decompress. Some researchers suggest having your children draw out their anxieties before returning to school using art therapy to help them process the many changes this year.
With this in mind, stock up on arts and crafts supplies, such as a new set of crayons and construction paper.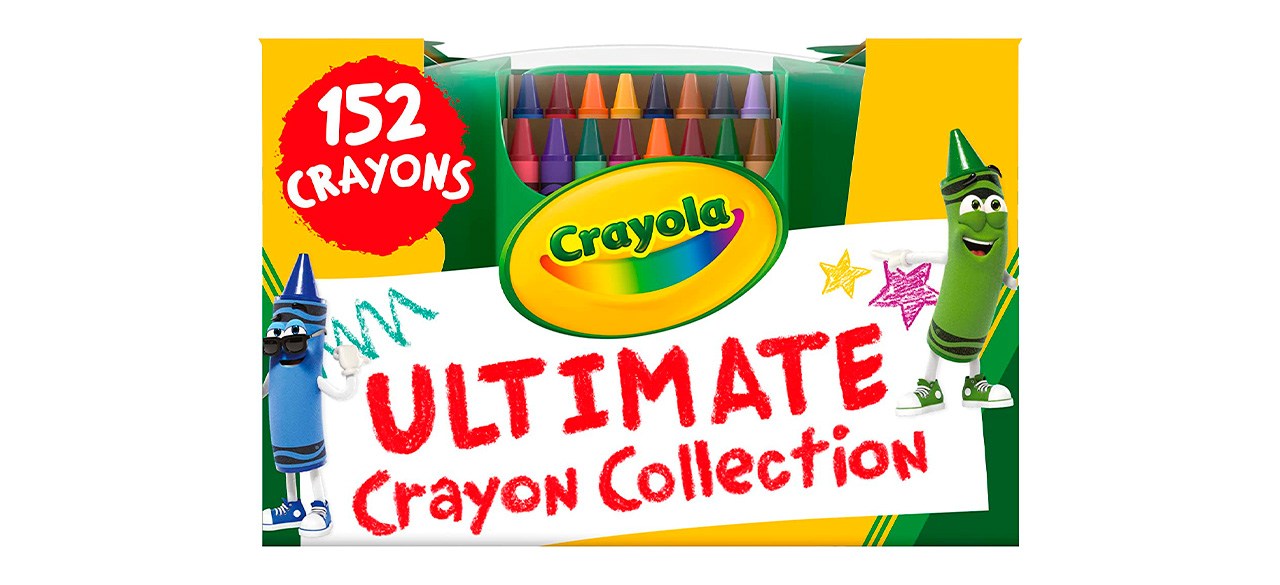 A basic set of crayons will suffice for younger kids, while older kids might like a larger deluxe set of crayons with more options. Don't hesitate to ask them what supplies they like or allow them to order what they want online or in-store.
Teens can also benefit from artistic expression. Quality colored pencils and a sketch pad will allow them to bring out their inner artist.
Be prepared
Another way to relieve the back-to-school jitters is to be prepared. Make sure you double-check with your child's school and teachers to know what your child will need to succeed.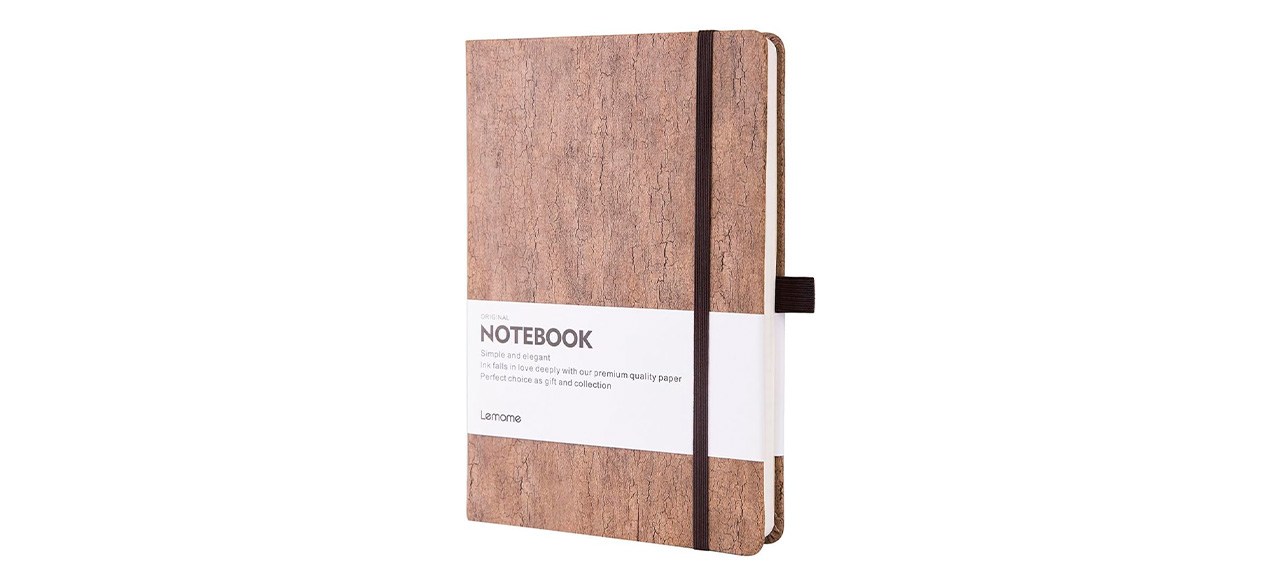 First, stock up on plenty of softcover notebooks. You'll also want to stock up on plenty of pencils and pens.
As you may already know, these supplies disappear quite quickly without a trace. To avoid losing pens, get a durable pencil case to keep writing instruments contained. Grab a fun pencil case, such as the Kpx Boba Cute Standing Pencil Case for Kids, which is designed as a cup of boba tea.
Remind them of home
One of the best things you can do to ease separation anxiety is to remind your child of home. Notes in their lunch box are great, as are things like a picture in their binder or a keychain. This small act of kindness will bring them comfort as they navigate through school.
There are tons of options for personalized keychains available online. You can have a keychain printed with a picture of you and your child or their favorite pet. Another option is to have a keychain engraved with a handwritten message for a more subtle approach.
For younger kids who might change their minds frequently, pick up a few interchangeable photo keychains that let you switch out the picture. They'll love customizing their keychain, and it'll help them take that step back into the classroom.
Best products to help kids with separation anxiety
Before school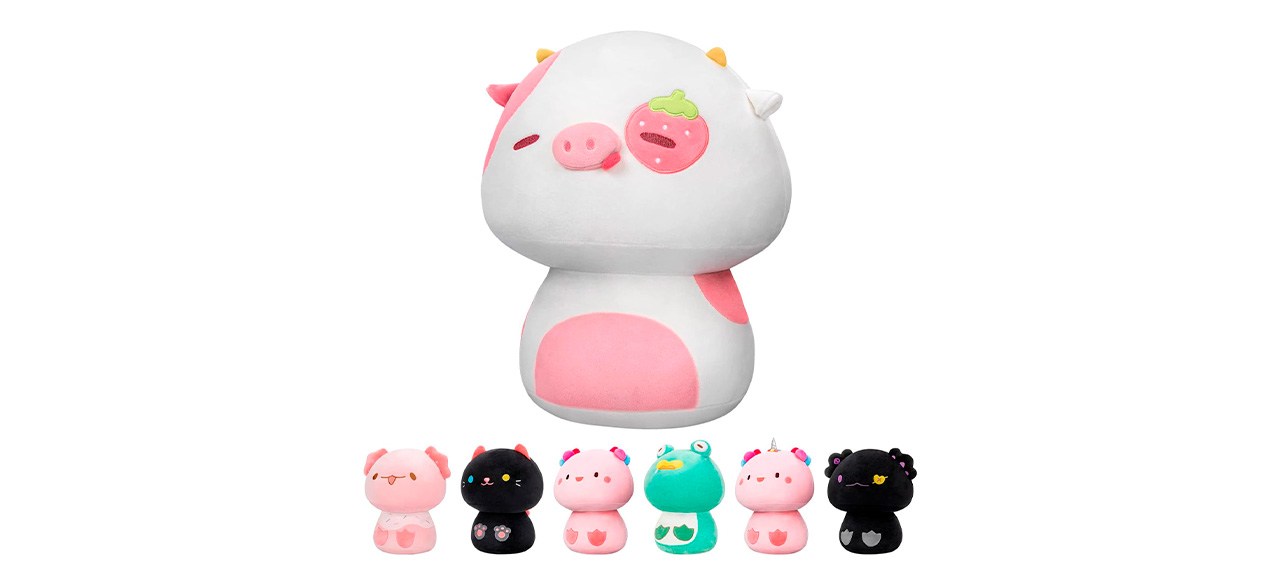 A soft plushie can provide comfort for anxious kids preparing for school. This 8- or 14-inch squishy pillow includes different animals, such as a pig, frog, cat or monkey. It is made of soft spandex and filled with down cotton.
Sold by Amazon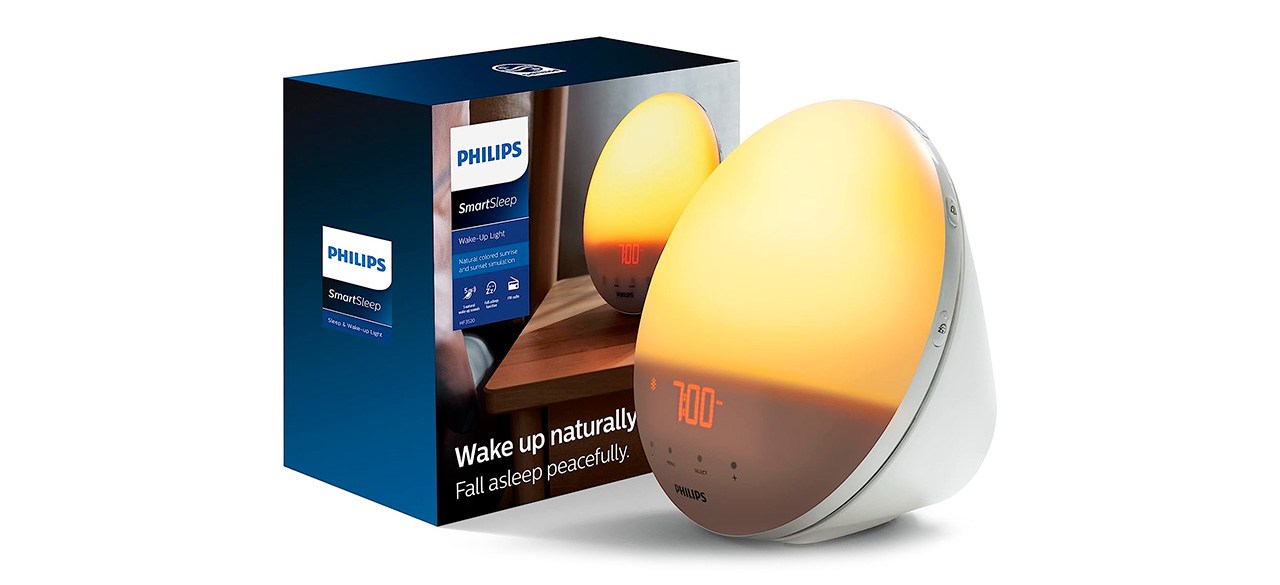 Philips SmartSleep Wake-Up Light
It's a challenge for kids to wake up after summer break, so this sunrise alarm gets them back on track. It has a simulated sunset and sunrise, 20 brightness settings and five natural wake-up sounds. Additional features include an FM radio, tap snooze, bedside lamp and automatic dimmable display.
Sold by Amazon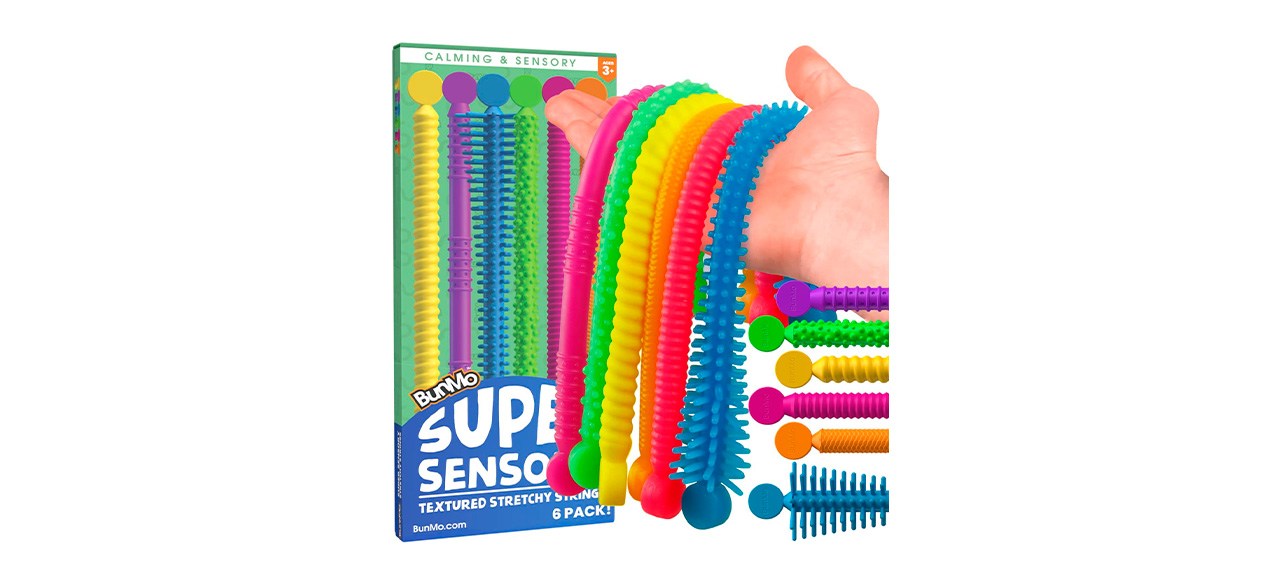 Bunmo Super-Stretchy Strings Six-Pack
Take their mind away from thinking about separation with sensory toys. This set includes a six-pack of stretchy strings in various textures for calmness. They are made of durable, latex-free material that stretches as far as 6 feet.
Sold by Amazon
During school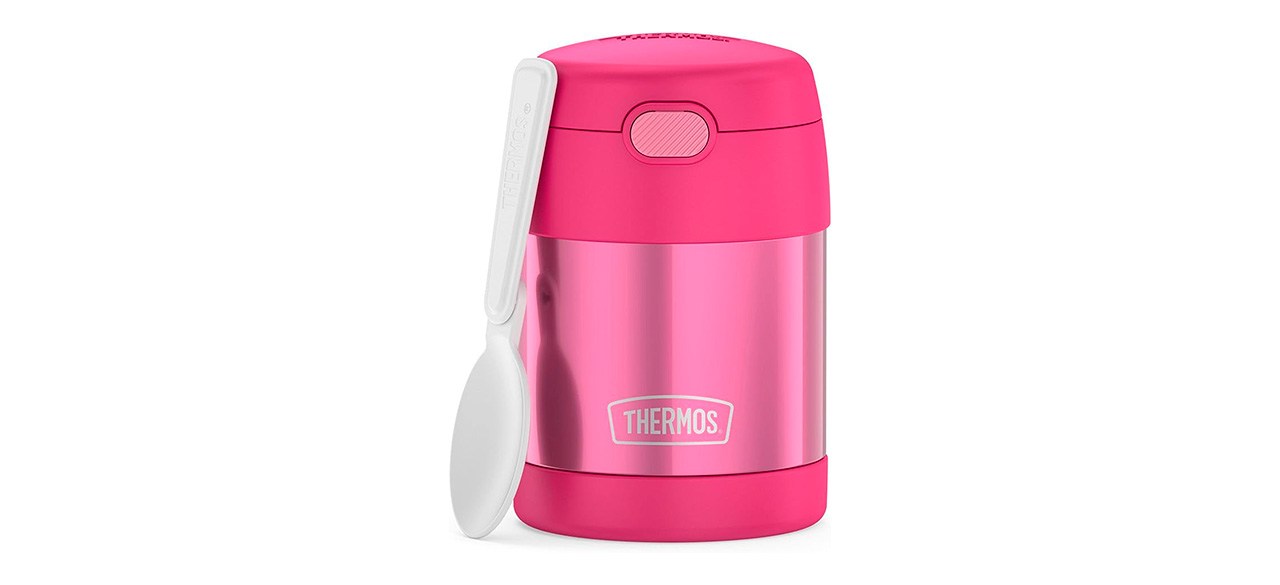 Thermos Funtainer 10-Ounce Stainless Steel Food Jar
Pack your child's favorite meal in this thermos. It holds 10 ounces of hot or cold meals for lunchtime. It uses vacuum-insulated technology to retain food temperature. It has a kid-friendly design that's lightweight, compact and comes with an easy push-button lid. A spoon is included inside the lid.
Sold by Amazon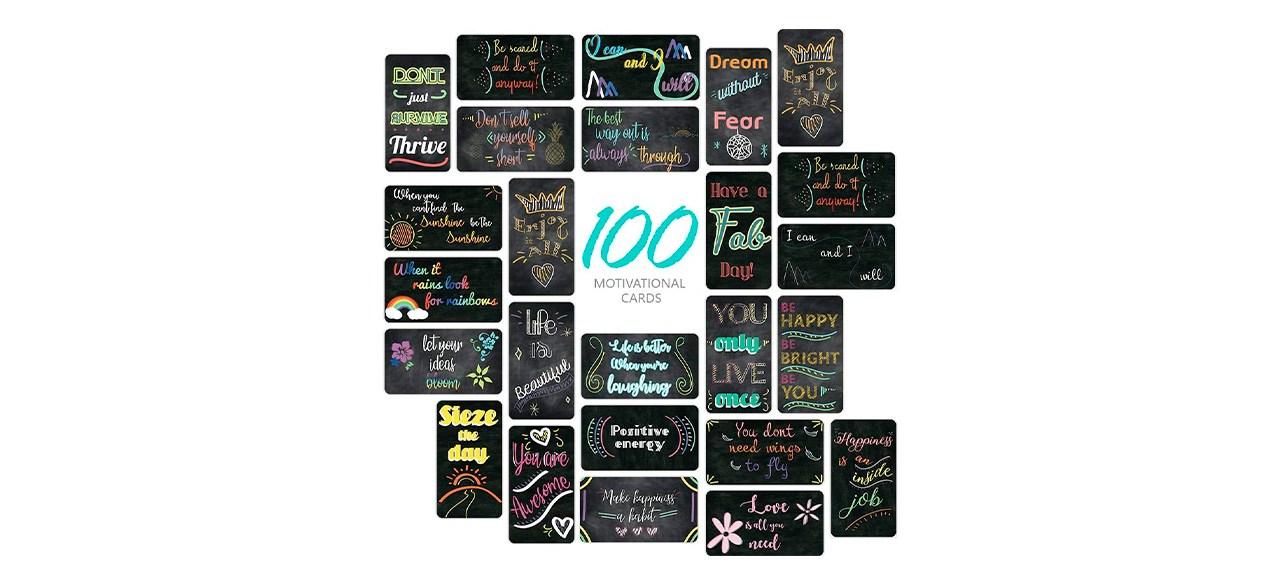 SpringFlower 100-Pack Motivational Quote Cards
A daily affirmation helps your child conquer the day. This set has 100 affirming and motivational quotes you can pack in their lunch box. The front of the cards includes a fun design and quote, and the back is blank, so you can write a personal note.
Sold by Amazon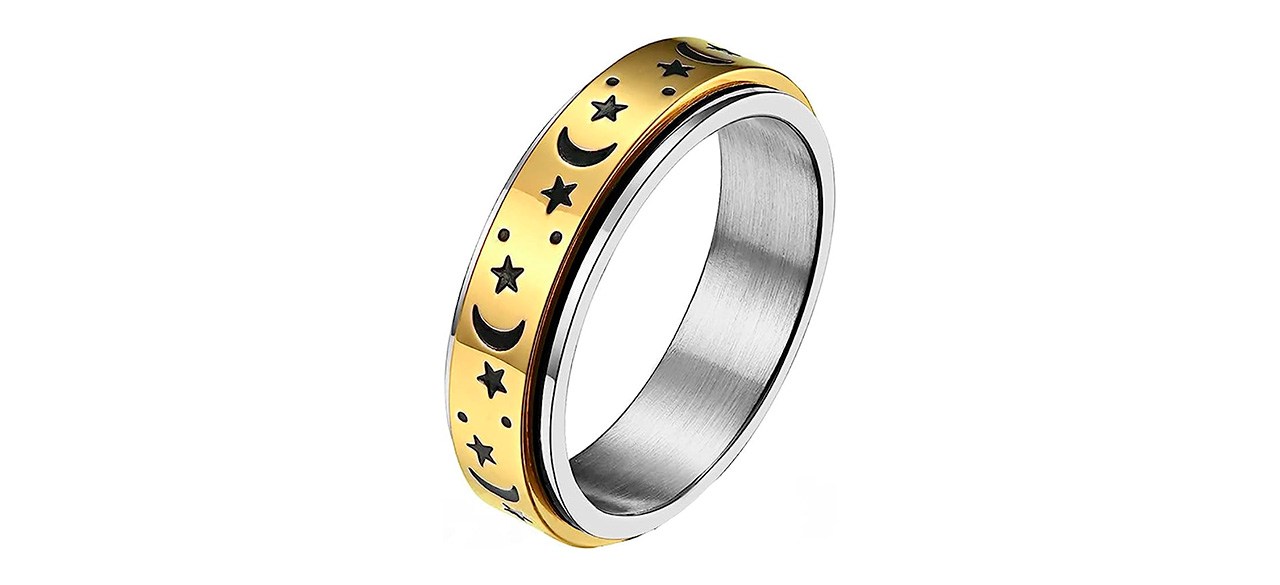 Nylry Titanium Stainless Steel Spinner Rings
Fidget rings are a more subtle fidget toy that eases separation anxiety without causing a disturbance in class. They are designed for all genders and are offered in ring sizes 5 to 12. They are made of high-quality titanium stainless steel with a smooth, shiny surface.
Sold by Amazon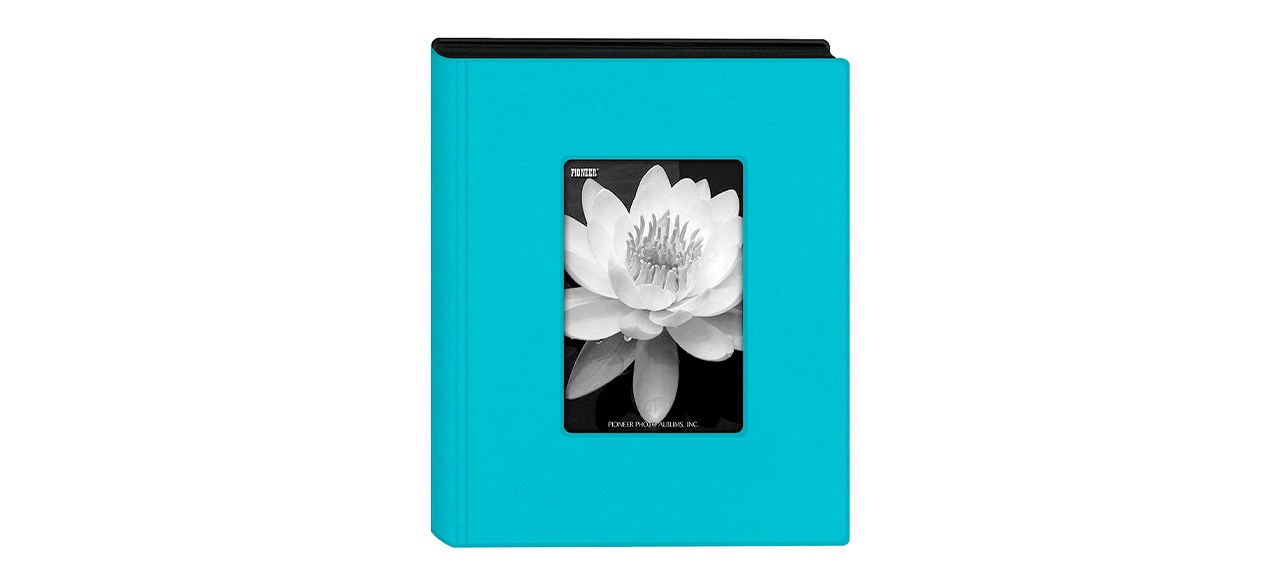 Pioneer Photo Albums Mini Frame Cover Photo Album
A mini photobook lets children cherish memories and feel less anxious about school. This photo album holds up to 24 4-by-6-inch photos. It has clear packets with a black mesh background and comes in nine colors. It is acid- and polyvinyl chloride-free.
Sold by Amazon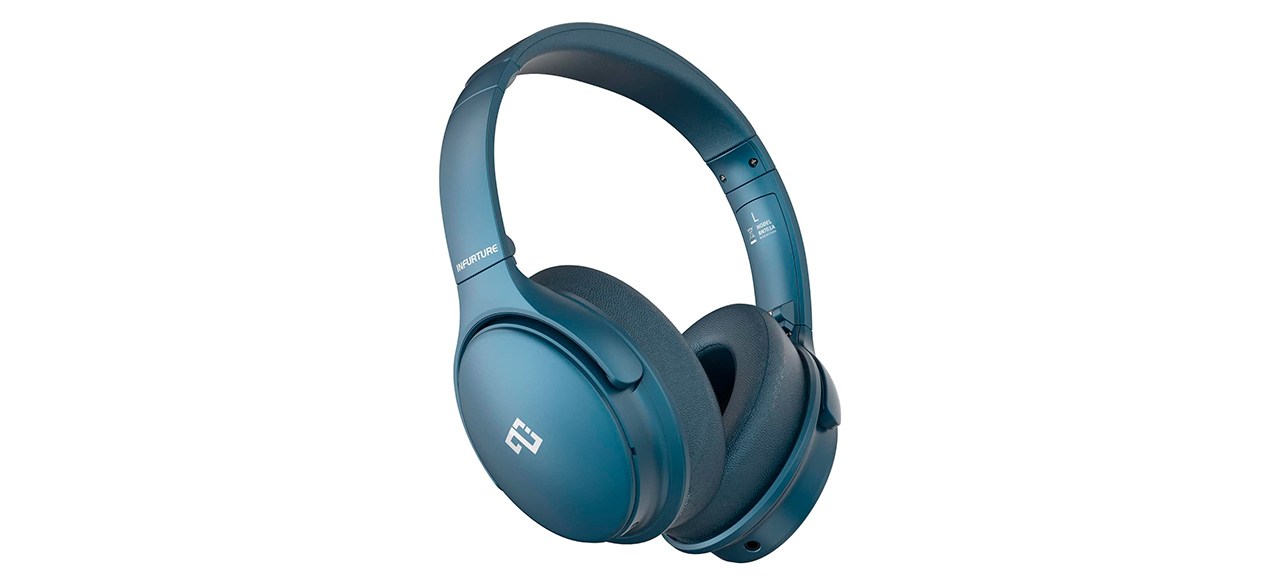 Infurture Active Noise-Canceling Headphones
Noise-canceling headphones provide comfort by eliminating environmental noises. This set uses USB-C fast charging for up to 40 hours of playtime. It has 90-degree swiveling ear cups and universal comfort to fit small ears. It includes a high-quality, built-in microphone and Bluetooth kids can make calls on.
Sold by Amazon
After school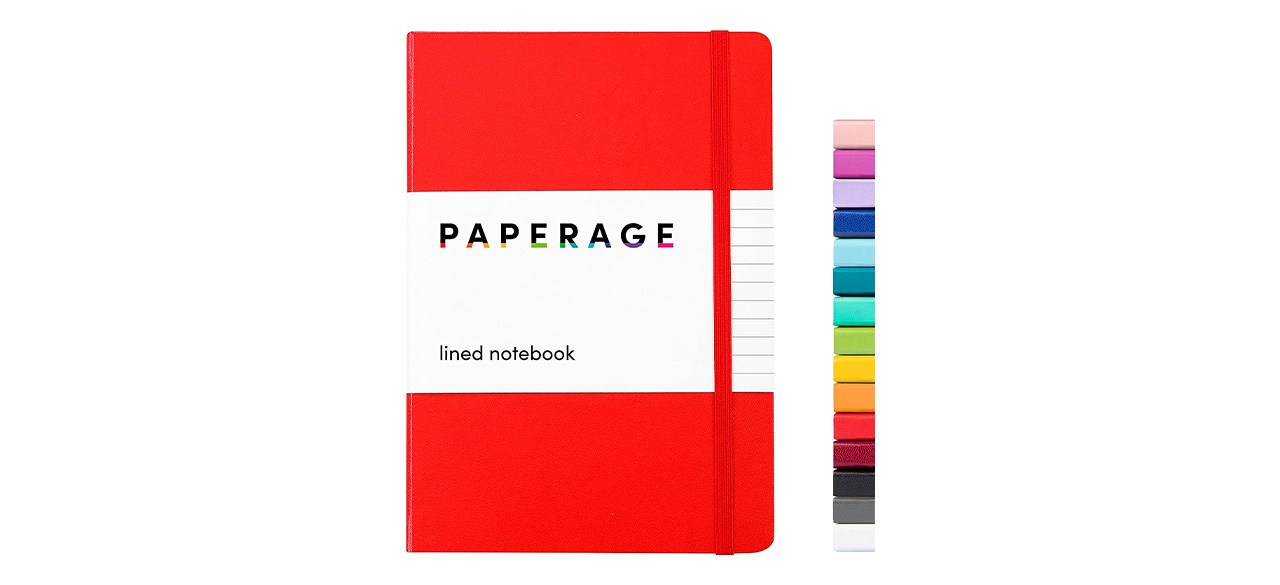 Paperage Lined Journal Notebook
A journal is a great outlet for kids to write their thoughts. This journal includes 160 thick, lined pages. It has a faux leather hardcover and comes in 14 colors. You can save a page with a ribbon bookmark and stash cards and notes in the book's back pocket.
Sold by Amazon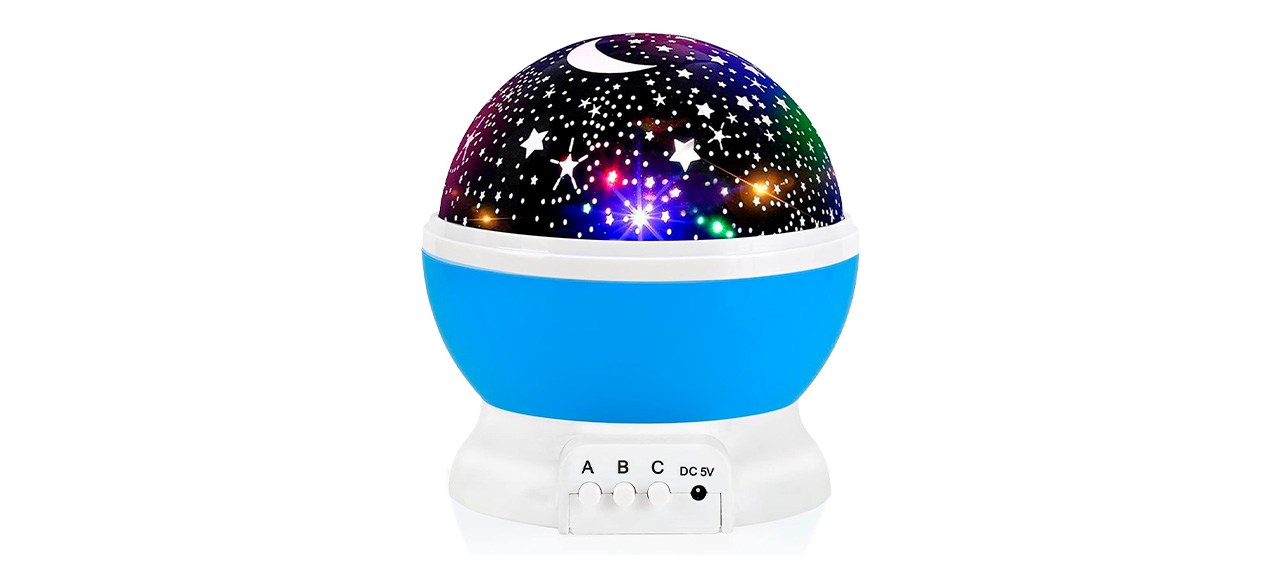 If they're having nightmares, this night light can provide some comfort. This night light doubles as a 360-degree rotating projection of the moon and stars. It includes four LED bulbs for nine lighting effects. You can charge it with its USB cord or AAA batteries, which are sold separately.
Sold by Amazon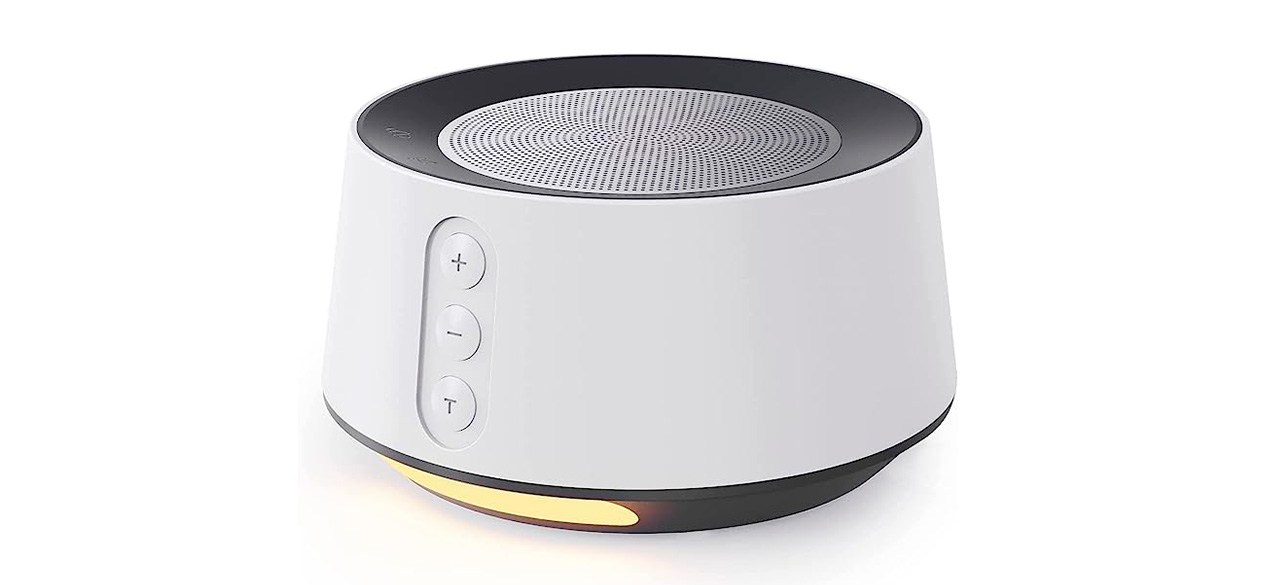 A white noise machine provides soothing sounds that ease children to sleep. This one has 14 sounds, a warm night light, five timers and a memory feature plug-in. It has an adjustable timer that automatically shuts off and 31 volume levels. You can choose from eight colors.
Sold by Amazon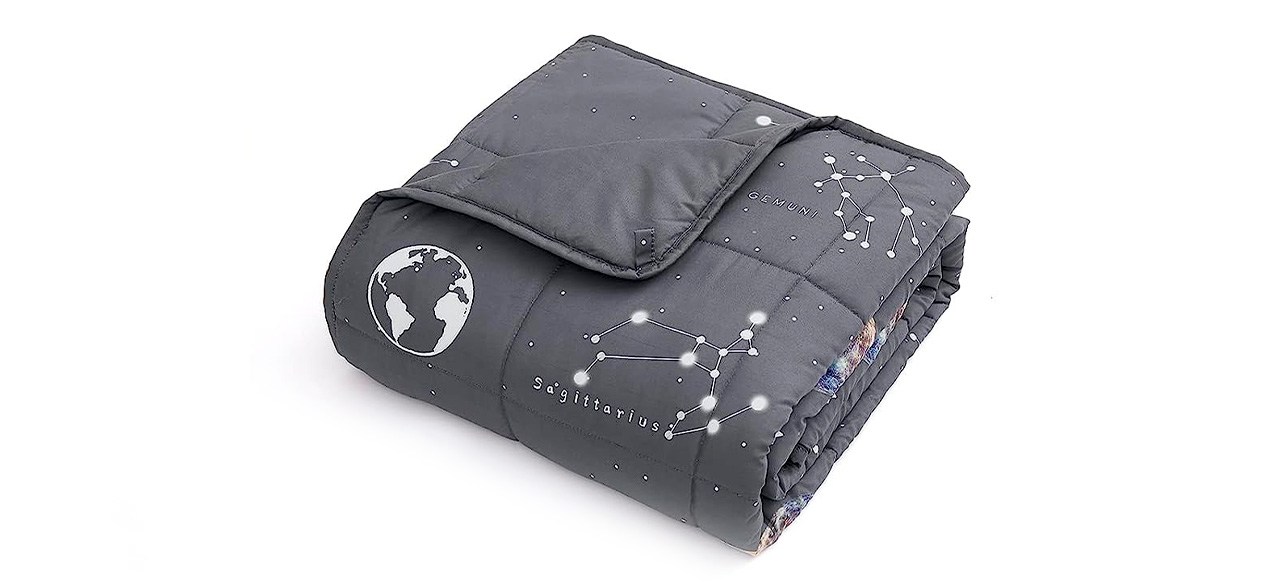 Topcee Weighted Blanket for Kids
A weighted blanket is perfect for calming children. This 3-, 5- or 7-pound blanket is designed for kids who are 40 to 60 pounds. It is made with soft, breathable microfiber fabric and nontoxic, hypoallergenic beads. You can choose fun designs such as a starry sky, animals or solid colors.
Sold by Amazon
Want to shop the best products at the best prices? Check out Daily Deals from BestReviews.
Sign up here to receive the BestReviews weekly newsletter for useful advice on new products and noteworthy deals.
Kasey Van Dyke writes for BestReviews. BestReviews has helped millions of consumers simplify their purchasing decisions, saving them time and money.
BestReviews spends thousands of hours researching, analyzing, and testing products to recommend the best picks for most consumers.
Copyright 2023 BestReviews, a Nexstar company. All rights reserved.