Best of the Best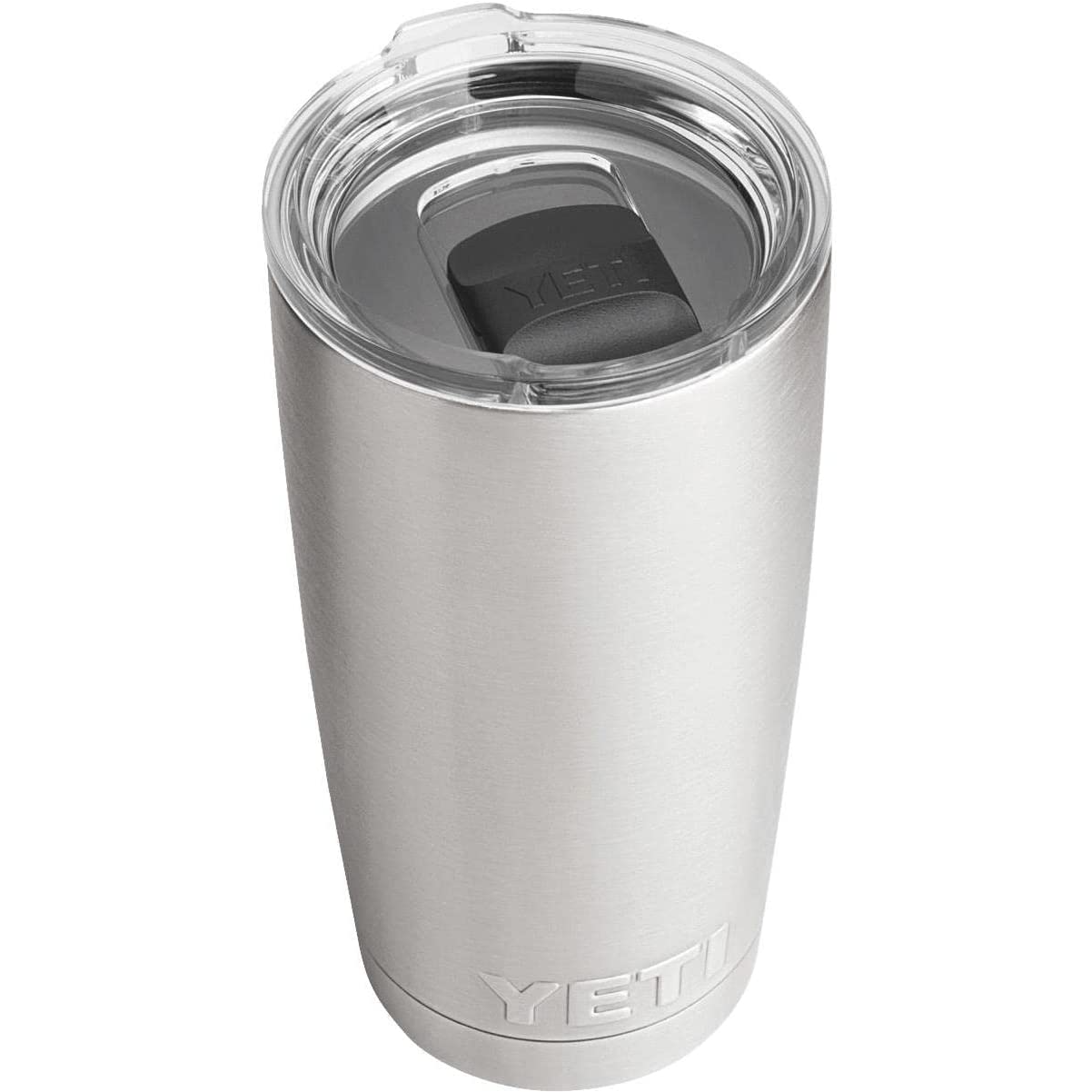 Yeti Rambler Rambler Vacuum Insulated Tumbler
Bottom Line: Popular leakproof insulated stainless cup for hot or cold drinks hot from a top brand.
Pros: Choose from 31 solid colors and patterns. Stainless steel exterior won't scratch or fade with use. Lid is BPA-free and tumbler is dishwasher safe. A strong magnet holds lid in place minimizing leaks. Keeps up to 20 ounces of beverage at just the right temp.
Cons: Reportedly can leak around the lid. Doesn't keep coffee hot enough for some.
Best Bang for the Buck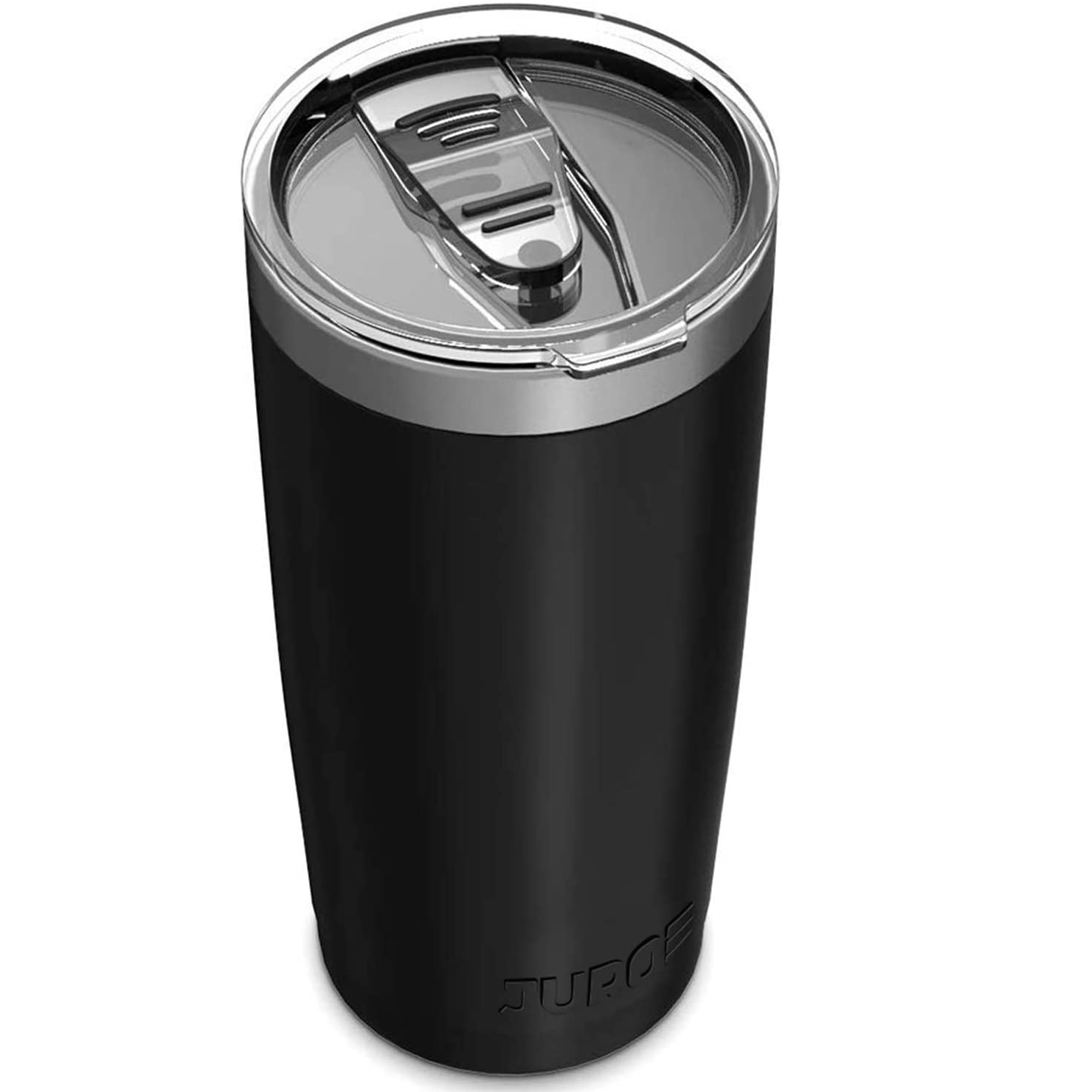 JURO Vacuum Insulated Tumbler w/Lid
Bottom Line: A basic insulated tumbler with a double-wall design and a 20-ounce capacity.
Pros: Keep drinks hot for six hours or cold for up to 24 hours with this tumbler. The lid can flip up or slide to open. The tumbler is BPA-free and can be machine washed. Use the included brush to keep it clean and try the steel straw for sipping on the go.
Cons: Lid design seems fairly leaky. Cup is sloshy when uncovered.
Also Great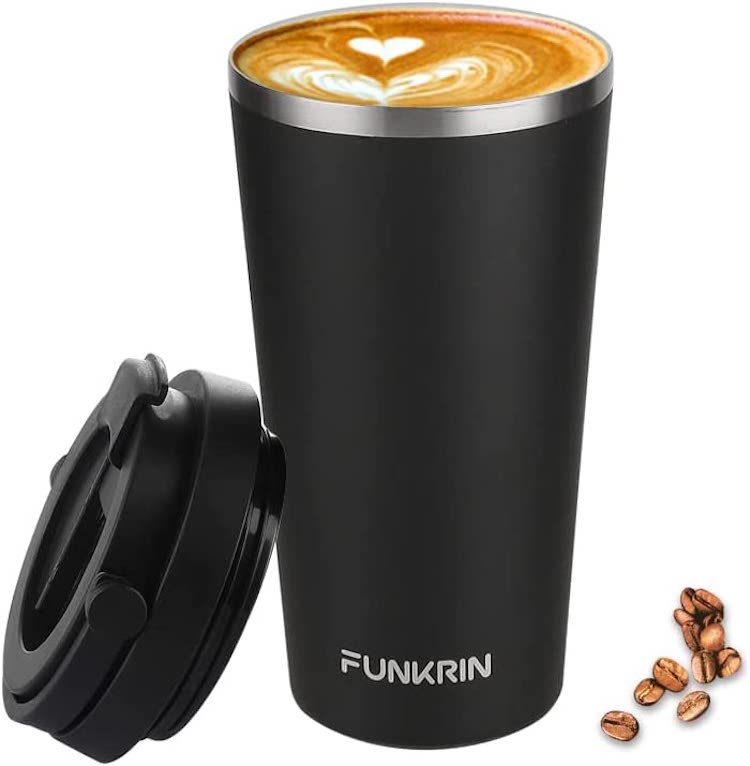 Bottom Line: A ceramic lining helps this tumbler keep drinks hot or cold for up to four hours.
Pros: Tumbler's non-slip silicone base keeps it in place on your desk and its lid has a flip top and a small handle for easy transport. Made of double-walled stainless steel, and fits most cup holders. Inner ceramic coating means cup won't absorb drink flavors.
Cons: Screw top can loosen and leak over time. Tumbler's finish tends to peel.
Also Great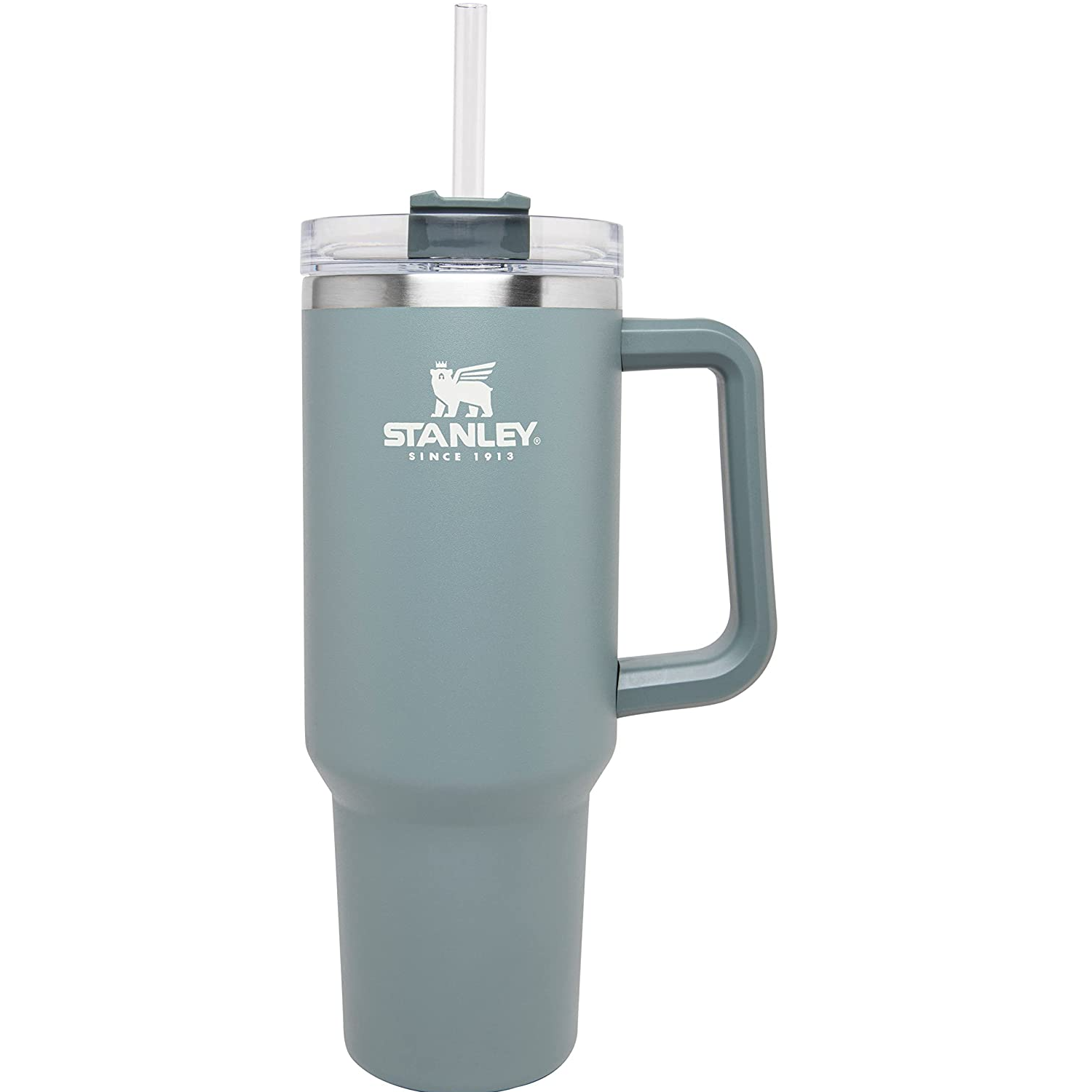 Stanley Adventure Quencher Tumbler
Bottom Line: A large tumbler for thirsty folks that features a narrow base to fit car cupholders.
Pros: Keep 40 ounces of drink hot or cold in this stainless steel tumbler. Use a straw to drink or open the lid for a big gulp. Keeps drinks hot for 7 hours or cold for up to 11. Features a BPA-free lid and offers double-wall vacuum insulation.
Cons: Some arrive scratched from shipping mishaps. A few find it too pricey.
Also Great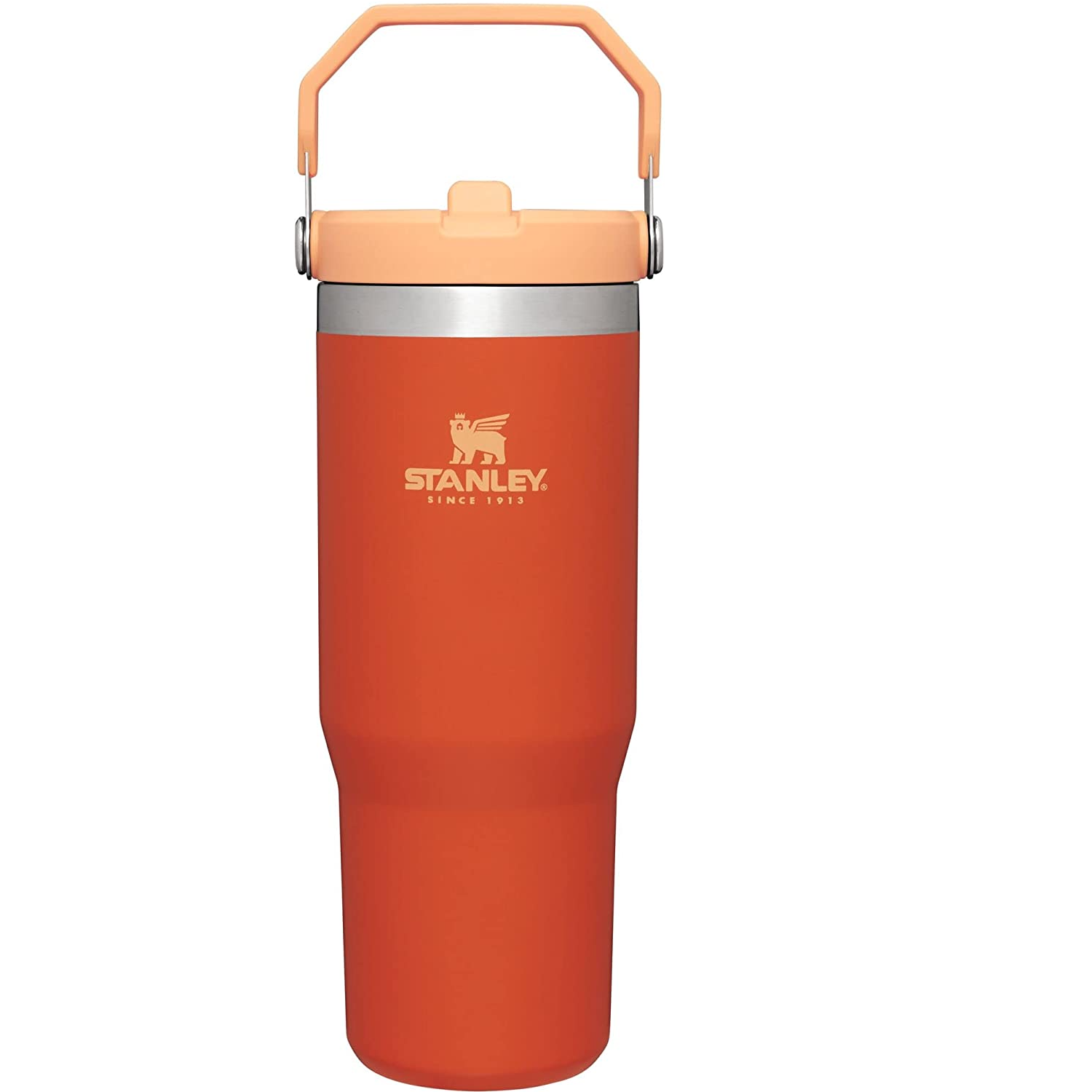 Bottom Line: A BPA-free, stainless steel tumbler from a famous name in staying cool — or hot.
Pros: Iced drinks can stay cold for up to 2 days and cold drinks will stay cool for 12 hours in this tumbler. Comes in 21 solid colors. Fits most car cup holders. Use the built-in flip straw for refreshing sips. Dishwasher-safe and BPA-free.
Cons: Users say that this tumbler arrives damaged with some frequency.
Buying guide for

BEST INSULATED CUPS

Whether you want your coffee to stay hot during your morning commute or need your ice water to stay cool on a hot day, a reliable insulated cup is a must-have. Choosing the right insulated cup depends on various factors, including the material, insulation capacity, design and size. Insulated cups come in different colors, sizes and finishes, with different options for those who prefer to sip from a straw or directly from the cup.

The perfect insulated cup should maintain the temperature of your beverage, be easy to clean and durable enough to withstand daily use. In terms of appearance, consider whether you prefer a cup with a handle, a cup that fits in your car's cup holder or one with a distinctive color or pattern to make it easier to spot.

Our top pick for the best insulated cup is the Yeti Rambler Vacuum Insulated Tumbler due to its robust construction, superior insulation and variety of color options. If you're on a budget, the Juro Vacuum Insulated Tumbler is a great choice with a sleek design and great insulation properties. But there are a lot of great options in the world of insulated cups.
TOP PICKS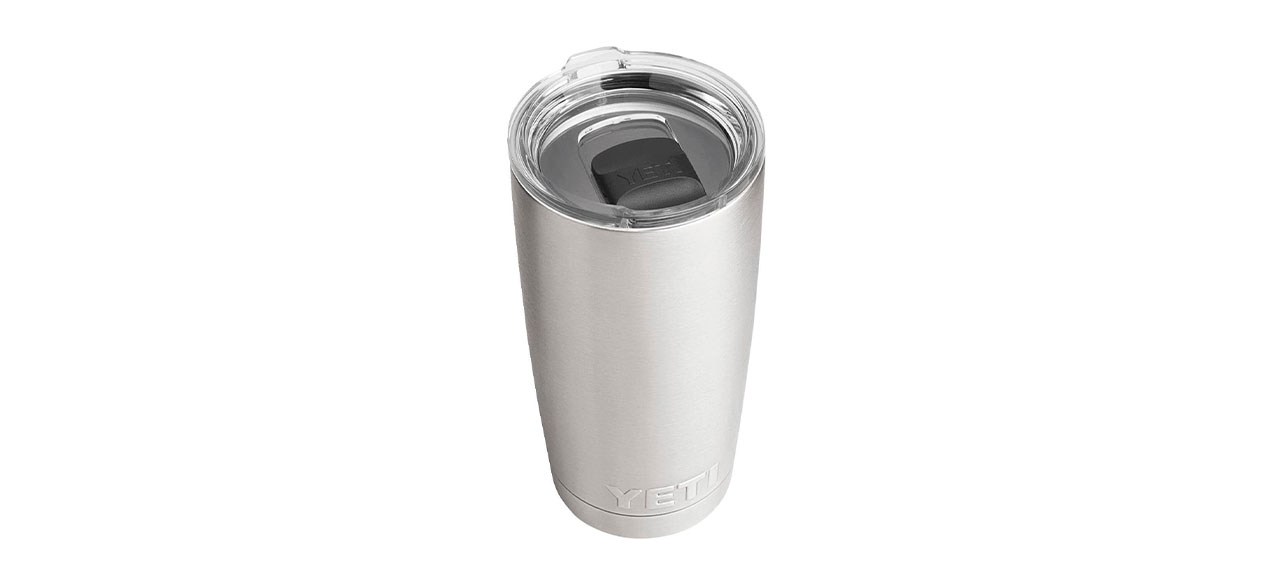 Yeti – Rambler Vacuum Insulated Tumbler
The Yeti Rambler stands out as our top pick due to its excellent temperature retention, sturdy build, and stylish design. Made from kitchen-grade stainless steel with double-wall vacuum insulation, it keeps drinks hot or cold for hours.
The Rambler comes with a MagSlider magnet-powered lid that lets you sip from any angle, and when you're not using it, the magnet creates a leak-resistant seal. The cup is also dishwasher safe, so it's easy to clean.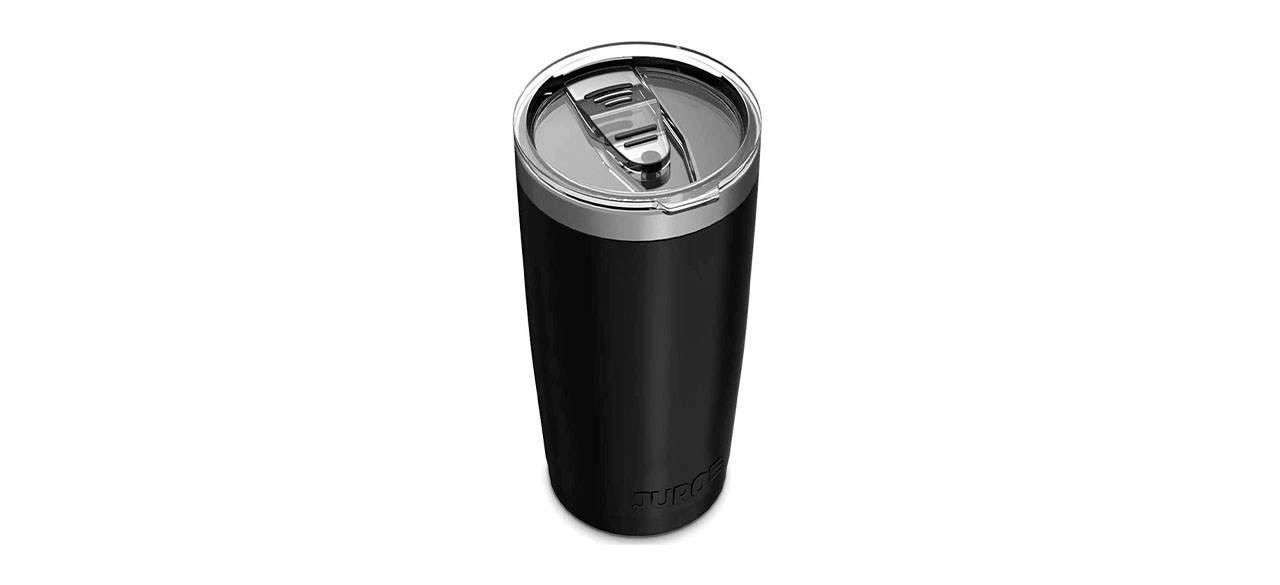 Juro – Vacuum Insulated Tumbler with Lid
For those on a budget, the Juro Vacuum Insulated Tumbler is an excellent option. Despite its lower price point, it offers excellent insulation with a double-wall vacuum design. It comes with a lid and a straw, catering to different sipping preferences.
The Juro tumbler also includes a handle for easy carrying. And the base is slim enough to fit in standard-sized cup holders, making it ideal for use in the car. This tumbler has a generous 20-ounce capacity.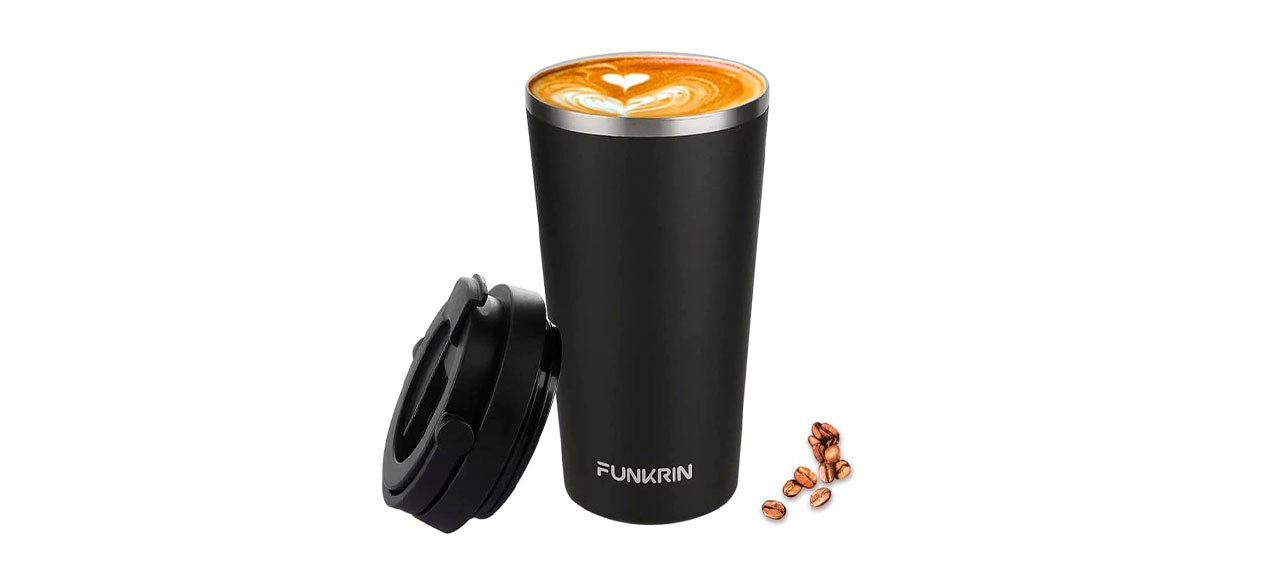 Funkrin – Insulated Coffee Mug
Funkrin's insulated mug is a great choice for coffee lovers on the go. The double-wall insulation maintains the temperature of your coffee, and the sleek design is easy to hold.
The leak-proof flip lid opens easily for drinking. Plus, the entire mug is dishwasher-safe for convenient cleanup. Made from durable stainless steel, this mug will withstand daily use while maintaining its looks.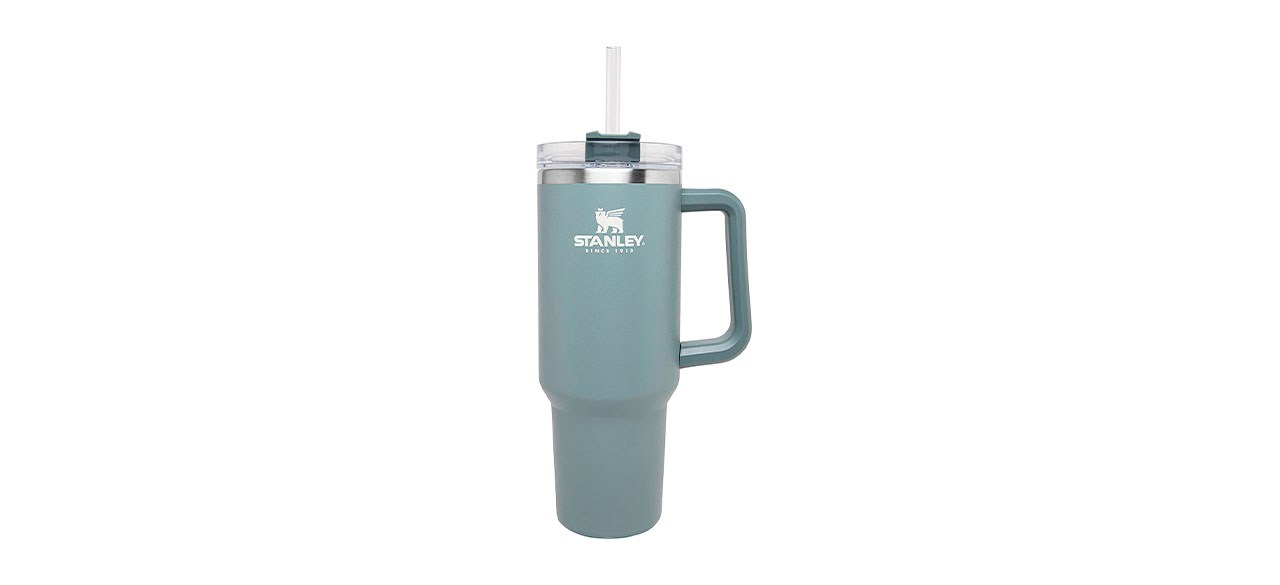 Stanley – Adventure Quencher Tumbler
The Adventure Quencher combines solid functionality with a rugged design, making it perfect for outdoor adventures. The double-wall vacuum insulation keeps your drinks at the right temperature for hours, while the flip lid prevents spills when you're on the move.
It also includes a reusable straw for those who prefer sipping their drinks. It's designed to fit in most car cup holders, and the slim body is comfortable to hold. Stanley offers this tumbler in various color options to suit your style.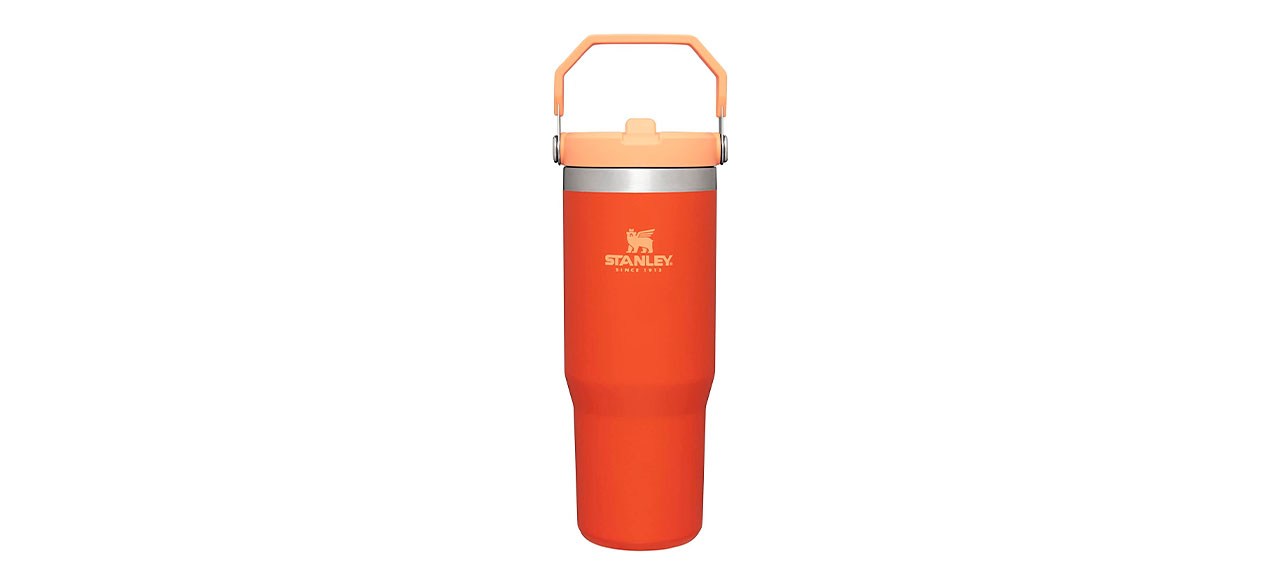 Stanley – IceFlow Tumbler
The IceFlow Tumbler is another great option from the Stanley brand. Designed with a unique flip straw lid, it's easy to use and prevents spills. The lid also includes a built-in guard so the straw won't float away when you're drinking.
The double-wall vacuum insulation ensures your drink stays cold, perfect for hot summer days. This tumbler is also designed to fit in most car cup holders, and its rugged build ensures it can withstand daily use.
The key factors to consider when choosing the best insulated cup are its insulation capabilities, design, durability and price. With this guide, you can make an informed choice based on your individual needs.
WHAT TO KNOW BEFORE BUYING AN INSULATED CUP
Types of insulated cups
Different types of insulated cups serve different purposes. Some are ideal for sipping coffee on a morning commute, while others are best for keeping a smoothie chilled on a hot day. Here are the most common categories:
Travel mugs: These are designed to fit in most vehicle cup holders and often come with a handle for easy carrying. Travel mugs usually have a leak-proof lid for on-the-go sipping. They're excellent for commuting or long trips where you need your hot or cold beverage within arm's reach.
Tumblers: Tumblers are typically larger and may not always fit in vehicle cup holders. They are ideal for keeping beverages at the desired temperature when you're at home, at a party, or at the office. Many tumblers come with lids and straws for easy sipping.
Water bottles: Insulated water bottles are designed to keep water cold for extended periods. They usually have a screw-on lid with a spout or straw for easy hydration during workouts or outdoor activities.
Key considerations
Drink type: If you are primarily a coffee or tea drinker, a travel mug designed to retain heat will serve you well. If you like cold drinks or smoothies, look for an insulated tumbler or water bottle with excellent cold retention.
Portability: If you're always on the move, choose an insulated cup with a secure lid to prevent spills. Also, consider whether it will fit into your car cup holder or backpack.
Capacity: Depending on your hydration needs, choose an insulated cup of an appropriate size. Smaller cups are lightweight and easy to carry, while larger ones hold more fluid but may be bulkier. It's a tradeoff.
WHAT TO LOOK FOR WHEN BUYING AN INSULATED CUP
Insulation type: Most insulated cups use double-wall vacuum insulation, which provides excellent heat retention for hot drinks and prevents condensation with cold ones. Ensure your chosen cup features this kind of insulation for the best performance.
Materials: Stainless steel is often used for insulated cups due to its durability and insulating properties. Look for food-grade, BPA-free materials to ensure safety.
Lid type: A good lid is essential for preventing leaks and spills. Some cups offer slide-lock or flip-lock lids that allow you to sip without removing the lid. Others may have straw holes or completely removable lids.
Handle: While not all insulated cups come with handles, they can be useful, especially for larger sizes. A handle makes it easier to grip your cup, reducing the risk of spills.
Ease of cleaning: Look for dishwasher-safe cups or those with wide openings that can be easily cleaned by hand.
Durability: The best insulated cups are made to last, often from stainless steel. Look for one with a durable finish that won't chip or fade with time.
Custom features: Some insulated cups have extra features like built-in tea infusers, carabiners for easy carrying or customizable designs.
At the end of the day, the best insulated cup for you depends on your specific needs and preferences. Consider factors like the type of beverage you usually consume, your lifestyle and the cup's features when making your decision.
Copyright 2023 BestReviews, a Nexstar company. All rights reserved.